The Issues in Your Agoura Home That Might Lead to Water Damage
2/6/2023 (Permalink)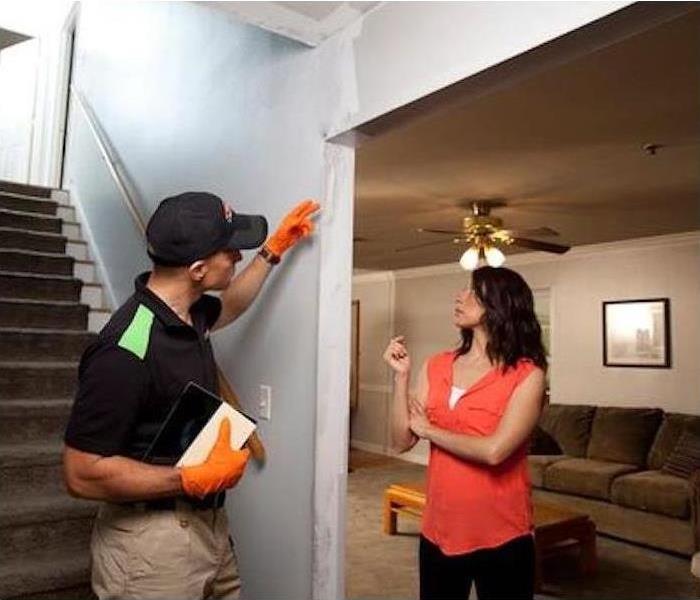 Our SERVPRO technicians can show you what you should look for to indicate a possible water intrusion in your Agoura home. Give us a call today.
SERVPRO Probes Water Damage Causes in Agoura Homes for Better Restoration
Water leaks happen at any time, causing significant damage in Agoura homes. Knowing the factors that leave a property predisposed to leaks and other forms of moisture intrusion can help develop a preventive plan or resolve the problems that develop faster. Common issues causing leaks include deteriorating materials, temperature changes, and blockages in plumbing systems.
The problems you notice in your Agoura home after water damage are the primary indicator of where the problem started. For example, the level of wetness indicates whether the source released a significant amount of water instantaneously or gradually. Significant moisture intrusions primarily arise from issues with roofing or plumbing systems. Other incidents leave minimal moisture. A professional team like SERVPRO uses several techniques to counter moisture accumulation, thus finding unique solutions for each case.
Likely Sources of Moisture Problems
Washing machine leaks from supply lines
Blocked drain lines
Clogged gutters
Condensate from air conditioners
The problems you blame for the unprecedented accumulation of moisture inside your home can develop instantaneously, but it builds up over time in many cases. For example, pressure builds up when drains clog, leading to rupturing, which sends water into unexpected areas, especially wall and floor cavities. Clogging is not a one-day event. Also, the blocked point may be far from the primary source of the problem. In many cases, disposing of oil by pouring it through a sink is the cause of many drain clogs. Solutions such as pouring in hot water only push the problem further from the entry point rather than resolving it.
Instantaneous Water Intrusions
Some changes happen quickly, triggering intrusion. Rapid temperature changes can leave pipes frozen, leading to cracking, which is an outcome of the sudden and rapid expansion of water in a line after freezing, thus exceeding the volume of the pipe holding it. Other instantaneous issues can arise when heavy debris such as tree branches fall on roofs or pipes are cut or punctured.
Water Damage Solutions
Stopping leaks
Extracting stagnant water
Drying wet materials
Deodorization
Whatever leaves your home wet, decisive and timely action is essential to remove the intruding water and address changes in the affected materials. Our SERVPRO IICRC certified technicians facilitate such timely action using standard equipment or specialized ones where necessary.
Water can settle on exposed surfaces like floors or reach cavity areas. Alternatively, highly porous materials like carpets absorb a significant percentage of the spilled water. Extraction from open surfaces is usually the easiest since we can readily mop an area or use a wet vacuum. Extracting moisture from cavities requires advanced skills and equipment. Skills are essential when creating openings like weep holes, vent holes, or making flood cuts since destroying materials unnecessarily is not ideal.
Specialized equipment plays a crucial role in managing moisture damage. Cavity-drying equipment like drying mats helps quickly remove wetness trapped beneath floorboards and tiles without requiring demolition. When our SERVPRO crews use the mats, we can prevent severe damages such as buckling or cupping floorboards. We have several other specialized types of equipment, including LGR and desiccant dehumidifiers, to dry vast areas or ensure we diminish moisture in materials to any required level.
SERVPRO of Agoura / Calabasas / Hidden Hills provides the necessary resources to counter water damage at your home, "Like it never even happened." You can reach us at (818) 991-6292.